Hempworx CBD Oils and Products
We are proud to be distributing one of the best CBD Oils on the market!
We have incredible Hemp-Derived CBD products in our HempWorx brand. These products consist of 7 Tinctures/Oils, 3 Topicals Creams, Bath Bombs and 2 Pet Products which all utilize CO2 Extracted Hemp Oil. We have a 60- day empty bottle money back guarantee so it's risk-free!
1. Our oils are available in two concentrations - 500 mg. and 750 mg. & 1500 of active Cannabidiol (CBD), Pet Oil is 250 mg.
2. Our oils are available in three flavors - Cinnamon, Peppermint and Natural. 3.We do not use any artificial sweeteners or flavoring, or dilute with olive, coconut oil or water, etc., unlike many other companies. The peppermint and cinnamon are infused into the CBD during the process, so it will NOT separate in the bottle.
4.Full Spectrum and THC Free - We have Full Spectrum Hemp Oil available that contain trace amounts of THC. (.03%) Full Spectrum CBD Oil uses the entire plant oil with ALL the benefits nature intended, including all the active cannabinoids. When using all the cannabinoids, each cannabinoid enhances the effectiveness of all the other cannabinoids. Scientists call this "the Entourage Effect". There are over 120 cannabinoids in our CBD Oil. Non Psychoactive, no high.
5. Additionally, you can purchase a "THC FREE" version of the oils if you are subject to regular drug screening. This oil is an option for active military, first responders – such as firefighters, police officers, EMTs, medical staff and competing athletes.
6. Our oils are affordable and below the average market retail price.
Non- GMO and Organic- Our oil is produced on FDA approved organic Kentucky farms using organic methods and is free of GMOs, synthetics, fillers, and other harmful ingredients. Kentucky hemp is known to be some of the finest quality in the United States, and many believe that the natural soil content and climate within the region produces better CBD-rich strains than those found in Colorado and California.

Our Oil is 100% made in the USA. Using low-temperature CO2 extraction all but guarantees a pure, potent end product. (Cold processed to avoid damaging the nutritional benefit. Most CBD manufacturers outsource at least some component of their operation to the Asian market. Many brands contain fillers like MCT oil, water, coconut oil, vegetable oil, grapeseed oil, olive oil, or anything OTHER THAN Hemp Oil. There is no need for additional ingredients, and they have no benefit. Some fillers can be considered harmful for pets and/or children. There is also no need for corn syrup, trans-fats, GMOs, artificial additives, thinning agents or preservatives except it cost less to manufacture. This is important info to share with those using other brands.

Drying- We use a propriety method of Fresh Lock drying called "Big Blue." Within 4 hours of being picked, the hemp is dried and vacuum sealed. The Fresh Lock drying system takes LESS than 3 minutes, virtually eliminating ALL mold, pathogens, contaminants, etc., and uniquely preserving the farm-to-table fresh nutrients. Our products are 3rd party tested and results are shown on our websites. We have a Certificate of Analysis readily available at any time (look on the website, under Documents). In fact, EVERY BATCH is tested by an independent third- party lab. Facilities are FDA compliant. Our Oil is now Certified from seed to bottle by the US Hemp Authority. (Many other brands that are Certified are diluted.)



60 Day Money Back Guarantee-
Our company is so confident in their oils that they offer a 60- day empty bottle refund policy. If you change your mind within 60 days of ordering, send it back for a refund.
American Biotics
Silver Biotics


Great Product for Cold & Flu Season
Recommended by Dr Pederson
Now is the time to get serious about your well-being and prepare to make a stand in favor of you and your family's health. Silver Biotics® is the #1 choice of tens of thousands of people for helping to supercharge their immune systems. By helping to boost the immune system, you allow your body's own natural defense system to work more efficiently at helping to maintain its natural and healthy state. Take Silver Biotics® orally every day to give your body the upper hand by helping to boost the immune system. Use it as one of your family's first lines of defense.
No one can truly afford the consequences of having to miss a day of work or school unexpectedly. Often times it ends up costing us more in time and money than if we had taken the simple steps to help prevent it. The truth is we don't have time to slow down in this fast paced world. Add Silver Biotics® to your already healthy lifestyle of exercise, good nutrition, proper hygiene, and adequate sleep. With this powerful combination, you'll help empower your body to overcome anything life throws your way.
BENEFITS
Powerful 10 PPM silver solution

Designed to help boost the immune system

Ideal to be used daily with both children and adults

Contains no artificial ingredients, preservatives or additives

100% Vegetarian

Gluten Free

Scientifically Tested

Used and Recommended by Doctors
THE DIFFERENCE
Colloidal Silver is a tiny molecule TEMPORARILY suspended in Water.
Ionic Silver is a silver ion that only has one mode of action and is so reactive,it can easily bind up in the body and cause argyria.
Silver Biotics technology is a tiny molecule PERMANENTLY suspended in water, and is covered by a unique AG404 coating. With this coating, it has multiple modes of action whereas every other silver technology only has one. It is far more stable and cannot cause the blue man syndrome. On top of that, it is backed by more than 280 independent reports and test series.

Sold at our Studio Exclusively
You may purchase the same product from Nature's Sunshine under their label~ it's called Silver Shield.


There are two strengths~ 10PPM for general sickness and 30PPM for severe infections/sickness
Nature's Sunshine Nature Fresh Enzyme Spray

In the 1980s, Nature's Sunshine Products (NSP) introduced the enzyme spray called Nature's Fresh as household stain remover and deodorizing agent. The product is remarkably effective at knocking out all kinds of odors (pet smells, smoke, food odors, and even the smell of skunk). It is also a natural, and completely non-toxic, stain remover for clothing, carpets and household use. What Nature's Sunshine didn't realize was that they were also bringing an amazing aid for healing the body into the marketplace.
It all started when some innovative NSP Manager felt inspired to spray Nature's Fresh over the area of a spinal slipped disk. They had read that disks were composed largely of enzymes and decided to try using the enzymes in Nature's Fresh topically to promote healing in the disk. It worked! Before long, NSP Managers were spraying Nature's Fresh on just about everything with almost miraculous results.
The product has so many uses that some NSP Managers started referring to it as the real Windex™ of My Big Fat Greek Wedding! (Of course, you would have to see the movie to understand this little joke.) When you're finished reading this article, we hope that you'll realize this is a product no home should be without!
What is Nature's Fresh?
Nature's Fresh is a mixture of six different classes of enzymes (derived from plants) suspended in water. It also contains a small amount of surfactant (an agent to reduce liquid surface tension so it will spread out) to help evenly disperse the enzymes when sprayed.
For those into chemistry, the enzymes in the Nature's Fresh product include oxidoreductases (enzymes that catalyze oxidation-reduction reactions), transferases (enzymes that promote transfer of a group from one molecule to another), lyases (enzymes that form double bonds on the substrate), hydrolases (hydrolytic enzymes-splitting water), isomerases (enzymes that catalyze the conversion of its substrate to an isomeric form), and ligases (enzymes that catalyze the linking together of two molecules).
For those who aren't into chemistry, this simply means that Nature's Fresh contains a wide variety of enzymes that can catalyze a wide variety of chemical reactions. This allows it to chemically alter a wide variety of organic odor molecules and organic stain molecules. It also allows it to catalyze a wide variety of healing actions in the human body.
Keeping the Home Clean (and Safe) with Nature's Fresh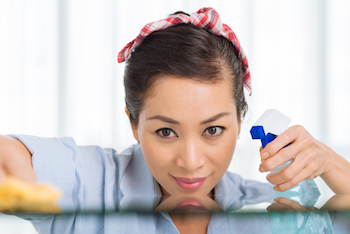 Unlike chemical cleaning products, deodorizers and household products, Nature's Fresh uses natural, non-toxic enzymes to break apart stain and odor molecules. It works much like the digestive enzymes in the body. By breaking apart amino acids (proteins) or fatty acids (fats or oils) that bind stains and odors to fabrics, carpets, etc., it helps to break them free and emulsify them (hold them in solution) so they can be removed. Nature's Fresh works on organic stains and odors and that includes just about everything.
Nature's Fresh used with NSP's Sunshine Concentrate, a natural household cleaning product, and a few essential oils can eliminate the need for just about all other household cleaning products. This helps protect the family's health by reducing exposure to chemicals. Here are some suggested uses for Nature's Fresh (and Sunshine Concentrate)
General Cleaning Uses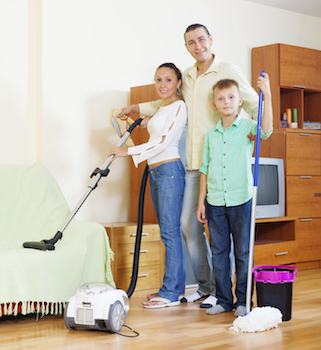 Nature's Fresh is very effective for cleaning walls. It will remove food stains, cigarette smoke and dirt. For spots spray on directly, for large jobs mix 1/4 cup with one gallon of water and a capful of Sunshine Concentrate to create an effective general cleaning solution.
Nature's Fresh is also great for cleaning counter tops, cabinets and floors in the kitchen and bathroom. It can be sprayed on directly, or diluted in water (about 1/8 cup per gallon). Add about 15-20 drops of a disinfecting essential oil such as thyme or tea tree and you have an all-natural disinfectant spray for bathroom and kitchen cleaning. Nature's Fresh can also be sprayed on towels and wash clothes to keep them smelling fresh. When diluted with an equal amount of water, Nature's Fresh makes an excellent glass cleaner.
Nature's Fresh can also be sprayed anywhere mold and mildew accumulate. It is even more effective when essential oils have been added to it. It removes the mildew and sets up a protective barrier that lasts about one month.
Clothes and Laundry
To remove odors, spray Nature's Fresh directly clothes and allow them to air out for a short period of time. This works for cigarette smoke, body odor and other smells. Nature's Fresh can also be sprayed directly on stains to help remove them and onto shoes to remove foot odors.
Use Nature's Fresh in your laundry to remove stains, eliminate bacteria and boost the strength of your detergent. It works better than other laundry strain removers. Put 1/4 to 1/2 cup in with each load and let it set for a few minutes before beginning the cycle. We also suggest using NSP's Sunshine Concentrate for your detergent.
Air Freshener
Nature's Fresh makes a great air freshener. It doesn't just mask odors, it actually breaks them down and eliminates them. Spray Nature's Fresh directly on to affected areas to help remove dirt, pet accidents and odors, cooking odors, etc. Many people have reported it works much better than Fabreeze™ and is completely non-toxic. To create a pleasant smelling air freshener spray, simply add about 15-20 drops of one of your favorite essential oils (lemon, pink grapefruit, lavender, etc.) to a bottle of Nature's Fresh.
Dishes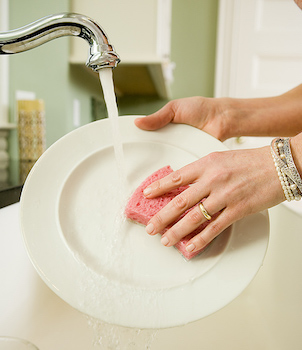 Many people have found that Nature's Fresh can be added to the dishwasher in place of a spot remover. It helps remove stains and odors from plastic storage containers when sprayed onto the containers and allowed to sit for a few minutes before washing. It can also help to remove odors from plastic. Simply spray on plastic bowels or containers and allow it to sit for 3-5 minutes before washing.
Carpet Cleaning
Nature's Fresh can be used for spot cleaning stains and odors. Simply spray it directly on the affected area and blot with a towel. It can also be used in carpet cleaning machines. Mix 1/4 cup of Nature's Fresh with three gallons of water and use it in the carpet cleaning machine along with the detergent. Sunshine Concentrate and a few drops of essential oils also can be used as an alternative to the chemical carpet shampoos. Be sure to use cold water and let the mixture sit for about 30 minutes to activate the enzymes.
Other Uses
Traveling: Put a mixture of Nature's Fresh in a 2 or 4 oz. spray bottle with a few drops of tea tree oil, eucalyptus oil, or Guardian oil and carry it with you when you travel. Spray it around your hotel room to get rid of odors and chemicals. Spray it on toilet seats before using public restrooms. Nature's Fresh can also be used in the car to give automobiles a clean, fresh smell.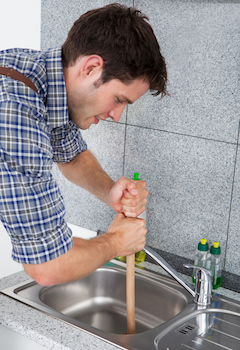 Clogged Drains: The enzymes in Nature's Fresh can break down material that is clogging drains. Pour a bottle of Nature's Fresh down the drain, let it sit overnight and run hot water through it the next morning. Enzymes are excellent for septic tanks, too.
Body Odor: Nature's Fresh can be used in place of chemical underarm deodorants. It eliminates odor for about 3-4 hours, but lasts even longer when essential oils have been added. To help eliminate odors from the inside out, take chlorophyll capsules or liquid internally, too.
Pets: Nature's Fresh is great for pets. Spray it on the cat litter box and give the cat some chlorophyll to eliminate odors. Spray it directly on dogs to eliminate odor. It will even remove the smell of skunk if your pet gets sprayed. Spraying Nature's Fresh on the fur between washings with Paw Paw Lice Remover Shampoo has proven to control fleas in animals, too.
Plants: Nature's Fresh can be mixed with the water used to water plants. It appears to help plants hydrate faster and grow better. It can also be mixed with water and sprayed directly on plants to freshen them, or put in the water for cut flowers.
Mouthwash: Swish a little Nature's Fresh around in the mouth to relieve bad breath. It also helps teeth and gums. Some people even brush their teeth with it.
First Aid in a Spray Bottle
The enzymes in Nature's Fresh works wonders on the human body in ways we're just beginning to discover. According to the latest studies, we're learning that enzymes can not only break down substances, they also change chemical structures, creating new compounds the body can use.
Nature's Fresh can be sprayed on topically for a wide variety of health problems. It can even be taken internally (about 1-2 tablespoons per day) to help heal both acute and chronic health problems. Nature's Fresh tastes a bit soapy, but you can disguise the taste in something like pineapple juice without deactivating the enzymes.
Pain Relief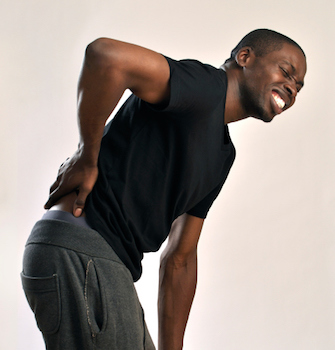 Nature's Fresh can be very effective in relieving pain when applied topically. It works even better when some Deep Relief essential oil is added to it. Just spray it on for tension, back pain, arthritis, injuries, etc. Many people have reported dramatic results with easing various kinds of arthritis pain using Nature's Fresh. Others have reported using Nature's Fresh both topically and internally to ease the severe pains associated with fibromyalgia. Nature's Fresh is not a permanent cure for these problems, so other supplements, dietary changes, etc. need to be implemented to remove the underlying causes of painful conditions like arthritis or fibromyalgia.
Back and Disk Problems
Nature's Fresh has worked wonders for many people with chronic back pain or disk problems. It can be used by itself or in combination with Tei Fu oil or Deep Relief oil to ease pain and promote healing. Massaging Lobelia Extract and Tei Fu oil into the muscles along both sides of the spine, then spraying on Nature's Fresh, can help realign the spine without having to go to the chiropractor.
Nature's Fresh is particularly effective for disk problems. It has been applied topically to ease pain and promote healing for slipped disks, herniated disks and degenerative disks. It can also be mixed with PLS II and a little goldenseal to make a poultice, which can be applied over areas in the back with disk problems to promote healing without surgery.
Breast Problems
Women have been amazed to find that spraying Nature's Fresh on the breasts has helped lumps to disappear. There is some evidence that the use of underarm antiperspirant deodorants increases the risk of breast cancer because it stops toxins from being eliminated through the sweat glands under the arms. This causes toxins to build up in the lymphatics in the chest and breast area. One NSP Manager had a client who started using Nature's Fresh for a deodorant and had a breast lump she had had for over 10 years disappear. Other women have started using chlorophyll internally and Nature's Fresh externally to control body odors as a means of keeping their breasts healthy and are reporting good results.
Injuries and Burns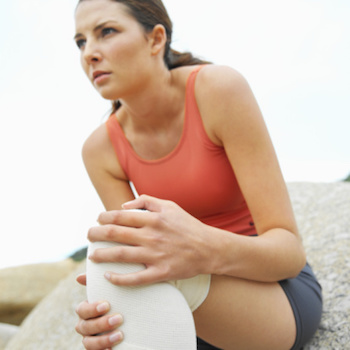 Nature's Fresh can be applied topically to minor injuries to prevent bruising and reduce swelling. It also helps bruises to heal faster. Nature's Fresh can help sprains, strains and even broken bones to heal faster. It is applied topically to these injured areas. It can also be used as the liquid to mix a poultice to apply to an injury. Simply empty capsules of PLS II or Bone/Skin Poultice, then add enough Nature's Fresh to the powders to make a paste. Apply the paste to the injured area and cover with a bandage. (Poultices should be changed every 6-8 hours.)
Nature's Fresh has also been used topically to relieve the itch, swelling and discomfort of bites and stings. People report it has been effective for ant bites, mosquito bites, chigger bites, and even jelly fish stings.
Nature's Fresh can help ease the pain of sunburn and promote more rapid healing. Apply aloe vera gel liberally to the affected area, then spray repeatedly with Nature's Fresh to keep the skin moist.
Dental Uses
Nature's Fresh can help to heal problems with teeth and gums. It can be used as a mouth rinse or brushed onto the teeth and gums. A great mouthwash solution for gingivitis is a mixture of Nature's Fresh and colloidal silver. Nature's Fresh and clove oil can be used together to ease toothache pain. Nature's Fresh has also been reported to keep teeth from getting sore after getting braces.
By~ Steven Horne

ps
To get this product at wholesale prices~call Nature's Sunshine direct 1-800-453-1422~ tell them you would like to set up an account and that Body Glyphix said to call. It's that simple!!
Cardio 911
"Get Oxygenated"
With the Miracle Molecule!!!!
Very rarely do I stand up and shout about a product that I have tested.
I was introduced to this product on Monday March 5th, 2012. Prior to that I had heard info that it was helping many people by oxygenating their bodies.
As a Yoga Teacher, Holistic Practitioner and Personal Fitness Trainer- I understand how important it is to be "oxygenated" to feel better. Cardio work out junkies can also attest to this fact. But now - can you keep this feeling of "oxygenation" all day? So I tried this product and felt it immediately. Not everyone does- the next day I had this feeling of "Aliveness" that I haven't felt since 2008 before I got the parasite in Belize. Sure- coincidence I thought. But everyday I feel more alive. I quit taking my Adrenal Support herbs, I am adjusting my Thyroid herbs, eliminating my immune support, lowering my dosage on supportive herbs that I do daily and feeling ENERGETIC for the first time in almost 4 years.
As a humble person- I do NOT push products on people- I will teach you what I can to help you get healthy- but I never push anyone to buy something- I do not like people pushing me. So here is the scoop on this amazing product- that has given me my life back.
The secret to Cardio 911 is not just L-Arginine- anyone can buy that. But When you take L- Arginine and L-Citrulline and mix them together they combust into Nitric Oxide. This is equivalent to wearing an oxygen mask on your face all day. Oxygen Therapy is common through out the world.We do not breathe with 100% of our lungs- our bodies are yearning for oxygen to heal and feel better. In 1998 a scientist won a Nobel Peace Prize for his discovery. Since our bodies do not get enough oxygen- we feel tired. This product is great for people who are always tired and no one can figure out why! But of course- I wanted to test it on myself first. I wanted to talk to other practitioners and see how well it was working for their clients. This week was one of the most stressful weeks of my life- I should have been having panic attacks, anxious or worse- and I was not. Here's the info on it:
Heart health problems are at epidemic levels. Heart failure is the leading cause of death for all Americans age 35 years or older. The remarkable properties of L-Arginine were validated by the 1998 Nobel Prize in Medicine. The nitric oxide derived from L-Arginine is directly or indirectly implicated in many cellular responses and health conditions, from the cardiovascular system to the immune system, hormone function to nerve function and much more. Cardio complications can be fixed!
Reverse...Repair...Restore
Benefits include:
Cardiovascular
Immune
Energy
Healthy Sleep
Anti-Aging
Erectile Function/Reproduction
Brain Function
Powerful Antioxidant
Hormonal Balance
Inflammatory Conditions (also caused by stress)
Muscular Development
And many more...

L-Arginine....5000 mg & L-Citrulline....1000 mg: Scientific studies show the combination of
L-Citrulline and L-Arginine increases Nitric Oxide production for cardiovascular, immune boosting and sexual health benefits for both men and women!

EDTA....100 mg: (Ethylenediaminetetraaceticacid) EDTA (known as oral chelation) was developed by the Germans in 1931 to reverse heavy-metal poisoning from the ingestion of lead, mercury, aluminum, cadmium, and more. EDTA has been used to help remove plaque. If your coronary arteries are clogged with plaque, it's a sure bet that the arteries in your brain (the site of strokes), kidneys, lungs, sex organs, and other vital organs are in a similar state. The medical literature around the world has repeatedly shown that EDTA is a safe and effective way to reduce plaque buildup and remove heavy metals from the body.

Co Q10....100 mg: Known as coenzyme Q-10 has been used for treating heart and blood vessel conditions such as congestive heart failure (CHF), chest pain (angina), high blood pressure. It is also used for diabetes, gum disease (both taken by mouth and applied directly to the gums), breast cancer, Huntington's Disease, Parkinson's Disease, Muscular Dystrophy, increasing exercise tolerance, Chronic Fatigue Syndrome (CFS), and Lyme Disease. Some people use Coenzyme Q-10 to treat hair loss.

Ingredients- L-arginine 5000 mg. L-citrulline 1000 mg. Vitamin D3 5000 IU. EDTA 100 mg. Co Q 10 100 mg. Vitamin B1 3 mg. Vitamin B2 3 mg. Vitamin B3 50 mg. Vitamin B5 10 mg. Vitamin B6 10 mg. Vitamin B12 500 mcg. Folic Acid 400 mcg. Vitamin C 200 mg. Natural Vitamin E 10 mg. Chromium Polynicolinate 200 mcg. AstraGin 100 mg. Perilla Oil 500 mg. Magnesium Citrate 230 mg. Potassium Citrate 70 mg. Selenium 100 mcg. Trace Minerals 100 mg. Proprietary Blend: 200 mg Grape seed extract, Grape skin extract, Pomegranate, Tart cherry, Hawthorne Berry. Other Ingredients: Monk Fruit, Xylitol, Stevia, all natural flavors, colors, and sweeteners . They are also mindful~ no folic acid but Folate! And no cyanocobalim but they use methycobalim instead in their B12.

Directions: Add 1 scoop to 10 fl. oz. water and mix. Drink once or twice daily.
Do not alter or discontinue medical treatment or use of medications without the consent of your physician. These statements have not been evaluated by the Food and Drug Administration.


Cardio 911 is not intended to diagnose, treat, cure or prevent any disease.
The cost is $45 and is available at my Studio (depending on how much you need) should last you up to 1 month. It calls for a one scoop serving, I did great with one scoop- some with certain conditions need more- some need less. I personally feel that anything that can make me feel this good and heal with Oxygen is worth it.
You may also pick up a can from me. You may be able to take less of the many of the supplements that you are currently taking after a few weeks too.
some success stories with this product:
Teenager with Rheumatoid Arthritis finds her life again after 3 months on it!
Gentleman with deteriorating retina damage (going blind) found a complete recovery!!
My Father about to go under the knife at 80 yrs young for a heart valve replacement- Cardio Classic totally repaired the valve.
Client with debilitating pain found relief after one container.
Client with Diabetes went off Metformin!!!
Zumba instructor finds "extra energy" to lead his classes.
Cancer survivor found her energy again after chemo, radiation and a bone marrow transplant.
Marathon Runner finds his best time after taking Cardio Classic for a month before the event!!

Any many more success stories continue to roll in. Be our latest testimony!!!
To order direct from the company 1-800-559-1517